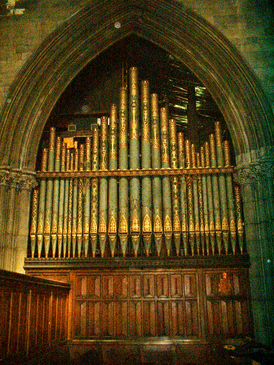 I have been making professional solo recordings of organ music regularly since 1986, several of these issues are still available.
If you'd like to hear some of my work 'for free', I suggest you visit www.organlive.com an Internet Radio Station based in the USA dedicated entirely to classical organ music. Enter my name in their 'search' box and you will be offered tracks from nearly twenty CDs. A request often comes up within half an hour or so. As they say, 'other organists are also available', in effect a vast library of contemporary and historic recordings is there waiting to be enjoyed!
---
Made with Priory Records*:
All of these* releases have gone through the stage of being deleted from the catalogue but Priory has now re-released two of them complete (The Mulet and the Weitz) and odd tracks of the others are also available again on compilation albums. I am given to understand that Priory can reprint single issues to order. I carry no personal stock of their CDs.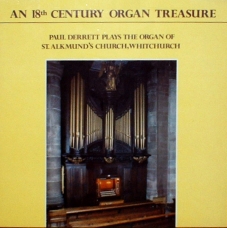 An 18th Century Organ Treasure - LP (1986)
The organ of St.Alkmund's Whitchurch, Shropshire
works by Bache, Wesley, Handel, Stanley, Alcock, Sumsion, Popplewell and Patrick Gowers (Toccata)
"..playing of style and understanding." (The Gramophone)
"..this organ is an unexpected delight.. There are many treasures on this record.. I would like to hear more of Paul Derrett's playing, which is in complete technical control and most musically shaped and projected." (Organists' Quarterly Review)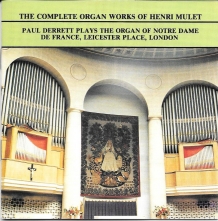 as originally issued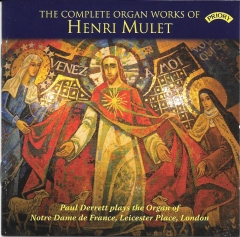 as reissued
The Complete Organ Works of Henri Mulet - Double CD (1987)
recorded on the organ of Notre Dame de France, London
"..well played and well recorded." (The Musical Times)
"..A most enjoyable collection. Paul Derrett plays with panache, with complete sensitivity to the music, and with admirable feeling for the remarkable 'French' organ in this resonant circular church..atmospherically captured." (Organists' Review)
"..a superb recording and I shall be surprised if anyone fails to obtain hours of enjoyment (and instruction) from these two excellent discs." (The Organ)
"..the most exciting performance I have ever heard of 'Tu es petra'." (Organ Club Journal)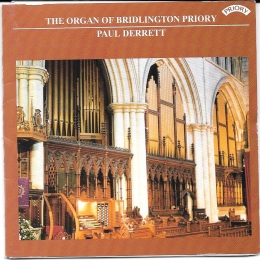 The Organ of Bridlington Priory - CD (1989)
works by Purcell, Anon, Bach, Lemmens, Callaerts, Reger (Ein' feste Burg), Hollins, Weitz, Delius, Peeters (Toccata, Fugue and Hymn) and Jackson.
"..A rich and rare programme." (Musical Times)
"..one of the most varied and interesting programmes I have heard in a long while, everything is a delight. This is playing of the highest order." (Organists' Review)
"..Derrett tackles everything with his customary aplomb..we are treated to some gorgeous sounds."
(The Gramophone)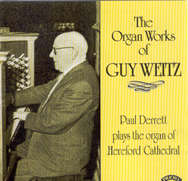 The Organ Works of Guy Weitz (1994)
recorded on the organ of Hereford Cathedral CD
Grand Choeur, Sicilienne, Fanfare & Gothic March, Symphony no.1, Ave Regina, Priere, Symphony no.2
"..I find it all enormously enjoyable and am frankly amazed that so much splendid music should have languished unplayed for so long..Paul Derrett really triumphs over the technical difficulties and throws the Hereford Willis/Harrison around with enormous skill and sense of colour...altogether a thrill." (Organists' Review)
"..a stupendous disc. ....magnificent..go out and buy it!" (The Organ)
"..beautifully played and well recorded." (RSCM Quarterly)
"..this is the most interesting CD to come my way in a long time..a CD not to miss."
(Organ Club Magazine)
---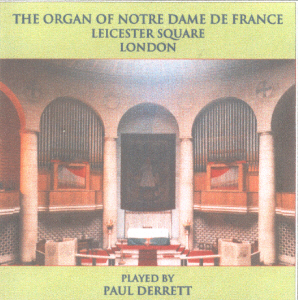 The Organ of Notre Dame de France, Leicester Square, London
Cassette: Wealden recordings (1987) since reissued privately as a CD
Works by Dumont, Piroye, Dumage, Dandrieu, Franck (Choral no.2) Durufle and Langlais (Fete)
"...this is an outstanding release. ..a really interesting programme played with great skill. Highly recommended." (Organists' Review)
"...His playing is compelling and quite brilliant." (BIOS Reporter)
---
Made with Amphion Recordings:
I regret that I no longer stock these discs so am unable to supply them.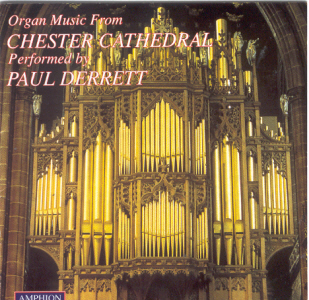 Organ Music from Chester Cathedral (1998)
works by Bach, Wesley, Bossi, Candlyn, Drakeford, Reger, Lemare, Respighi and Piet Post
"...superb playing." (The Gramophone)
"..The artistry is such that every item is a delight to hear .. magnificent Chester Cathedral organ. A 10/10 recording." (The Organ)
"..Virtuosic playing.." (Choir and Organ)
"..the sort of attractive programme we have come to expect from him...sure technique and perceptive musicianship enhance every phrase. I enjoy this programme greatly." (Organists' Review)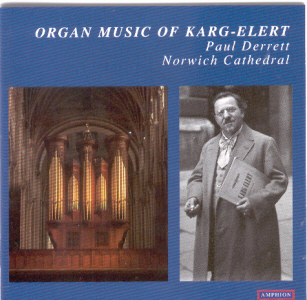 Organ Music of Karg-Elert (1999)
recorded on the organ of Norwich Cathedral
including Partita Op.100, Passacaglia on B.A.C.H. and Symphonic Chorale: Jesu meine Freude
"...exceptionally fine. Absolutely superb in every respect, and without doubt a 'must have'." (The Organ)
"..as usual with this player, his technique, musicianship and sense of colour are of the highest order." (Organists' Review)
"..Derrett plays this music..with conviction and virtuosity." (International Record Review)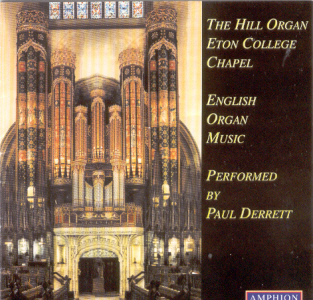 The Hill Organ, Eton College Chapel (2001)
Elgar, Goodhart, Lloyd, Parry, Vaughan Williams, Arne, Leeds, Ley, Bairstow (Sonata) Tippett, Steel, Popplewell and Peter Warlock (Capriol Suite)
"…An absolute joy." (Organists' Review)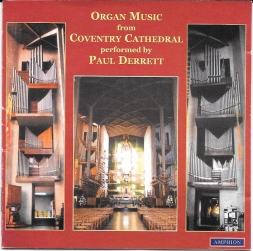 Organ Music from Coventry Cathedral (2002)
works by Ibert, Bach, Beethoven, Reger (Straf' mich nicht!) Brockless, Cabena, Groenendijk and Demessieux
"..a goodly selection of treats....combines with a player who has impressed me for many years....shows the instrument at its best." (Choir and Organ)
"..[Paul Derrett is] an exceptional organist of rare quality."
(introduction to a broadcast from this CD on BBC Record Review)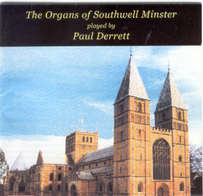 The Organs of Southwell Minster (2003)
Nave organ: works by Robert Ashfield, Fleury, Swain and W.H.Harris
Screen organ: Schumann (Six Fugues on BACH) and Seth Bingham
Nave and Screen organs together: Hindemith (Symphonic Metamorphoses)
"..truly virtuosic…very satisfying, enjoyable CD *****" (Choir and Organ)
"..masterly performance, all utterly convincing.." (The Organ)
"..as for Derrett's virtuosity and musicianship here - they come from the same place that Harry Potter got his wand." (Organists' Review)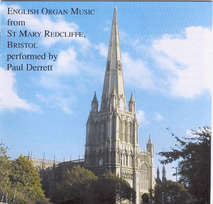 English Organ Music from St.Mary Redcliffe (2008)
Bairstow, C.S.Lang, Boyce, Drakeford, Parry ('Wanderer' Toccata and Fugue) Howells (Six Pieces)
"...dexterity and expressive musicianship are every bit in evidence...
the programme is a most enjoyable compilation." (RSCM Quarterly)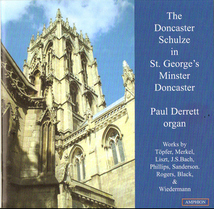 The Doncaster Schulze (2010)
Works by Topfer, Merkel, Bach/Karg-Elert, Liszt ('Ad Nos'), Sanderson, Magnus Black, David Rogers and Wiederman.
"..an imaginatively varied programme played with great panache...
...providing an experience of absorbing interest.." (Karg-Elert Society)
"..This is a very important disc...a magnificent performance of this towering masterpiece (Liszt's 'Ad nos').." (International Record Review)
"..a really excellent disc *****" (The Organ)
---
Besides The Benchmarks Series itself, (see elsewhere on this site) recorded on the Benchmarks Label are: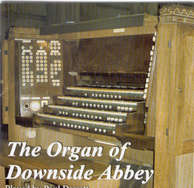 The Organ of Downside Abbey (2000)
Bonnet, Bax, Delius, Christopher, Galliera, Tournemire and Germani
"…seamless crescendos and kaleidoscopic colour.…glorious sonic fireworks. The recording quality is unsurpassed and Derrett proves the ideal advocate of this unusual but appealing repoertory."
(The Organ)
"…some of the finest 'orchestral' playing you'll ever hear….total virtuosity…" (Organists' Review)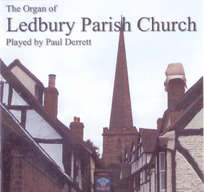 The Organ of Ledbury Parish Church (2003)
Campra/Fox, Bach, Stanley, Mozart, Mendelssohn, Guilmant, Saint-Saens, Horace Watling, Cor Kint, Langlais, Heiller and Popplewell
"…you will enjoy every minute." (The Organ)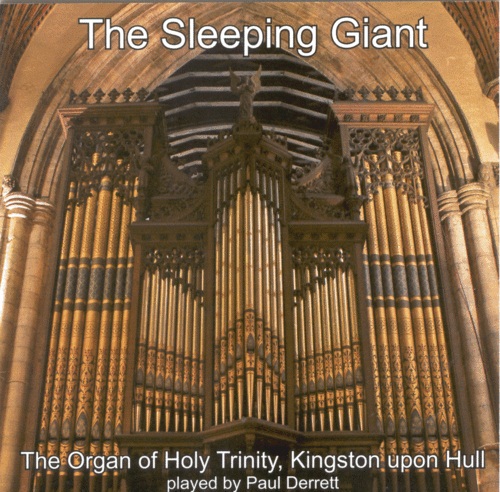 The Sleeping Giant (2006)
the 104-stop Compton organ of Holy Trinity, Kingston-upon-Hull
Galuppi, D'Evry, Dubois, Delius, Ljapunow and Mussorgsky (Pictures at an Exhibition)
" ...programme is innovative and decidedly virtuoso....playing is of the highest order; the recording quality is excellent." (BIOS Reporter)
"...Derrett again lives up to his reputation for creative and original programming...much to capture the ear...recommended." (Organists' Review)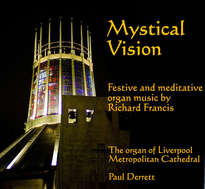 Mystical Vision (2007)
Music by Richard Francis, recorded on the organs of The Cathedral of Christ the King, Liverpool and Hull City Hall
"...I have listened to the recordings several times and there is not a single track that leaves me cold. Derrett's playing is super, technically excellent and responsive to demands of mood, rhythm and organ management... The Liverpool organ sounds wonderful..." (Organists' Review)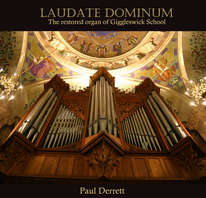 Laudate Dominum (2008)
The restored Father Willis organ of Giggleswick School
Mozart, Bach (Trio Sonata no.5) Reger, Vierne, Janacek (Postlude) and Saint-Saens (Seven Improvisations)
"..well worth adding to any organ collection." (Organ Club Journal)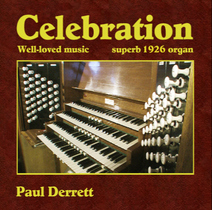 Celebration (2009)
The 1926 Walker Organ of Eleventh Church of Christ Scientist, London W1
popular works by Purcell, Handel, Delius, Bach, Haydn, Boellmann (Suite Gothique) Sibelius (Finlandia) Yon and Widor (Toccata from 5th Symphony)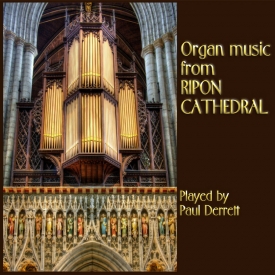 Organ Music from Ripon Cathedral (2010)
Works by Bach, Popplewell (A Feast of Fugues), S.S.Wesley, D'Antalffy-Zsiross (Sportive Fauns), Marshall, Leighton (Prelude, Scherzo and Passacaglia) and Durufle (Prelude and Fugue on 'Alain')
"..extremely pleasing recording ..magnificently delivered."
(Organists' Review)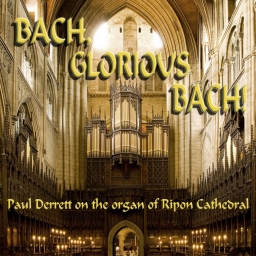 Bach, Glorious Bach (2010)
Recorded on the organ of Ripon Cathedral
Masterpieces recorded on the magnificent Lewis/Harrison organ of Ripon Cathedral. The programme includes the 'Great' Prelude and Fugues in C major and minor, the Partita on 'Sei gegrusset' and major chorale preludes.
"..attractive and varied programme..colourful performances."
(Organ Club Journal)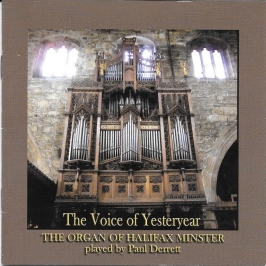 The Voice of Yesteryear (2012)
The 1929 Harrison and Harrison of Halifax Minster
"..imaginative programme ..matches its character so well." (Choir and Organ)
"..very varied programme, superbly executed - another EXCELLENT disc.."
(Organ Club Journal)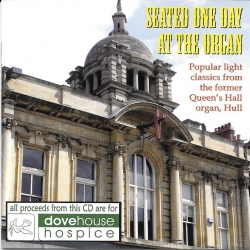 'Seated one day at the organ' (2013)
The former organ of The Queen's Hall, Hull now in Hull Jubilee Church in an appealing (all public domain) programme which was kindly sponsored by Patrick Flynn so all proceeds can go to Dove House Hospice. A wonderful period instrument, Forster & Andrews Ltd. at their very best.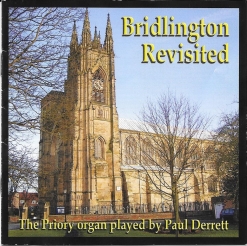 Bridlington Revisited (2015)
The fabulous Aneessens/Nicholson organ displayed from top to bottom. Works by Harwood, Stanley, Raymond Sunderland, Rheinberger (Sonata no.1), Reger (Hallelujah! Gott zu loben..), Skidmore, Milford, Bernard Johnson, Ronald Perrin (Spanish Toccata) and Nibelle (Carillon Orleannais).
"..a hugely enjoyable recital.." (Organists' Review)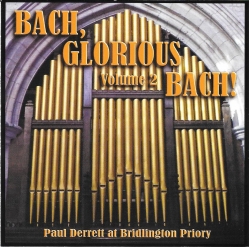 Bach, Glorious Bach! volume 2 (2015)
Preludes and Fugues in A major, C major (BWV.545) and E minor (The Wedge), Fantasia in C minor (5-part),
The Six Schubler Chorale Preludes and Partita on 'Vom Himmel hoch'
Recorded in Bridlington Priory in October 2014. If you like your Bach with 'bite', this one's for you!
New for 2016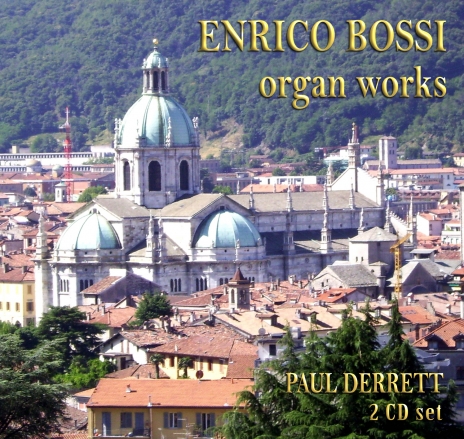 Double CD issue, major works of Enrico Bossi recorded in Bristol Cathedral
two and a half hours of glorious, colourful and varied music including many rarely-performed items.
Major works include Sonata no.2, Toccata di Concerto, Legende, Konzertstuck, Theme and Variations,
Piece Heroique, Two Characteristic Pieces, Etude Symphonique, Scherzo in G minor etc.
N.B. Contrary to the information given below, because this is a price for 2 CDs, this item costs £12.
---
How to order...
With the exception of the recent Bossi Double CD (see above) all Benchmarks Lable CDs are £11 each (incl p& p). If you order more than one CD, please deduct £2 from the price of each CD in your order.
To order please write with your choice, your postal address and a personal cheque made out to Paul Derrett; these should be sent to
Keys House, Ings Lane, Keyingham, East Yorkshire, HU12 9RB.
We will do our best to supply your CD(s) speedily, but this is not always possible. If there seems to be an unaccountable delay, please contact me by e-mail. Your cheque will not be banked before the order is sent to you.
I'm very happy to receive enquiries and comments (either pro or anti!) by e-mail, but I'm afraid that CDs have to be ordered and paid for by post.
e-mail contact:
pdbenchmarks@pdbenchmarks.karoo.co.uk
If anyone tried to contact me recently using my old e-mail address, please accept my apologies for the frustration they have been given, it will not have worked - that is why it has now been changed!