'BENCHMARKS'
Paul's growing 'musical Ordnance Survey!' This highly-praised series celebrates our national organ heritage in attractive music (several premiere recordings). Histories, specifications and photographs are always included.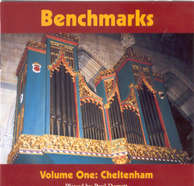 Volume 1: Six organs in Cheltenham
St Gregory's RC Church, St Matthew's, St Luke's, All Saints', SS Philip & James, Holy Apostles
"…interesting….well-recorded, beautifully played." (Organ Club Journal)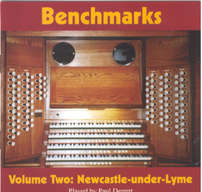 Volume 2: based in Newcastle, Staffordshire
St George's, Wolstanton High School, St Giles', Congregational Church,
Keele University Chapel, St Paul's
"…refreshing and honest.…committed and characterful performances …" (BIOS Journal)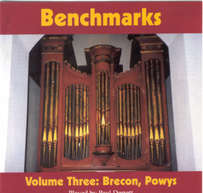 Volume 3: from Brecon, Powys
Brecon Cathedral (main and chamber organs), Betwys Church, Penpont,
St Mary's (main and chamber organs), Christ College
"…a fascinating disc - more please!" (Organists' Review)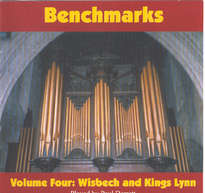 Volume 4: Wisbech and Kings Lynn
St Mary's West Walton, Hillington Parish Church, St Margaret's Kings Lynn
Thorney Abbey, Parish Church Walpole St Peter, SS Peter & Paul, Wisbech
"…delights both musical and organic." (Organists' Review)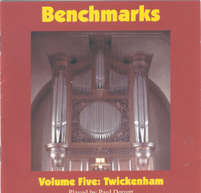 Volume 5: Twickenham
All Hallows (main and chamber organs), Holy Trinity, All Saints',
St Mary's College, St.Mary's Parish Church
"…as usual, excellent playing from Paul Derrett." (The Organ)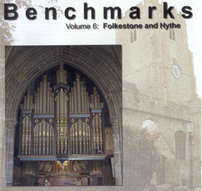 Volume 6: Folkestone and Hythe
St Saviour's Folkestone, St Michael's Hythe, SS Peter & Paul Saltwood
St Mary & St Eanswythe's Folkestone, Holy Trinity Folkestone, St Leonard's Hythe
"…effortless in its sheer perfection…the pieces played matter not, for you are sure to enjoy every one of them" (The Organ)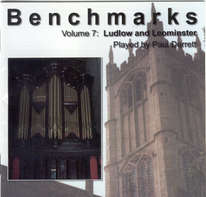 Volume 7: Ludlow and Leominster
Ludlow Parish Church, The Old School Orleton (two organs) All Saints' Monkland
St Cuthbert's Clungunford, Leominster Priory
"..found my attention completely held…..excellently-sustained, musical performances throughout… all thrillingly captured by the recording engineers.." (Organ Club Journal)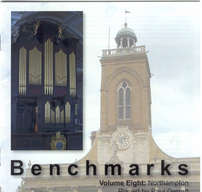 Volume 8: Northampton
Roman Catholic Cathedral, St Mary's Little Houghton, St Andrew's Old,
Christ Church, Abbey Centre Baptist Church, All Saints' Church
"...performances on all the instruments are both sympathetic and masterly. Recommended"
(BIOS Reporter)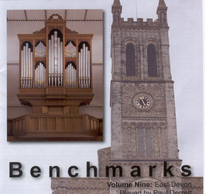 Volume 9: East Devon

Honiton Parish Church, St Michael and All Angels Awliscombe, Ottery St Mary
Sidmouth Parish Church, SS Giles& Peter Sidbury, Budleigh Salterton Parish Church
"..a wonderfully varied selection of music and instruments." (Organ Club Journal)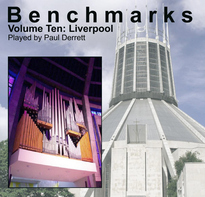 Volume 10: Liverpool
St Anthony of Padua, St John's Tuebrook, Christ Church Claughton, St Francis de Sales Walton,
St Luke's Walton-on-the-Hill, Metropolitan Cathedral of Christ the King
"..Derrett is on fine form here.." (Organists' Review)
"..a most valuable undertaking...fascinating range of music ***** " (The Organ)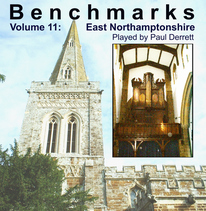 Volume 11: East Northamptonshire
Wellingborough URC, St.Mary's Wellingborough, Raunds P.C.,
Castle Ashby, St.Mary's Finedon and Higham Ferrers Parish Church
"..a labour of love which has been very well carried out..***** " (The Organ)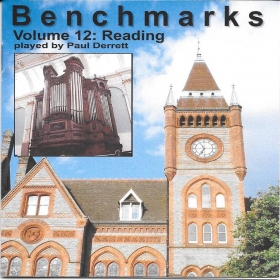 Volume 12: Reading
The Town Hall, University Great Hall, St.Mary's Minster, St.Mary's Episcopal Chapel,
St.Giles Church, St.James R.C. Church
"..the playing is consistentently exemplary." (Organists' Review)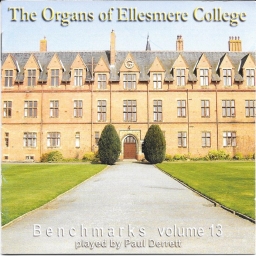 Volume 13: The Organs of Ellesmere College
The 1864/74 Schulze (built for St.Mary's Tyne Dock) and 1969 Hill Norman & Beard in neo-classical style
"..Derrett is on great form in the latest of his encyclopedic series.. musical and committed playing, skillfilly varied programme.. ***** " (Choir and Organ)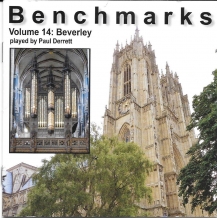 Volume 14: Beverley
St.John's RC Church, Latimer Congregational Church, St.Nicholas Church,
Toll Gavel United Church, St.Mary's Parish Church and Beverley Minster
"Overall this is a great venture, and, given the uncertain fate of many churches, chapels and their instruments, in time this will be a valuable historical resource." (Organists' Review)
"..performances are never less than inspired.." ***** (The Organ)
"..the music is well chosen to reap the best of each instrument.." (Choir and Organ)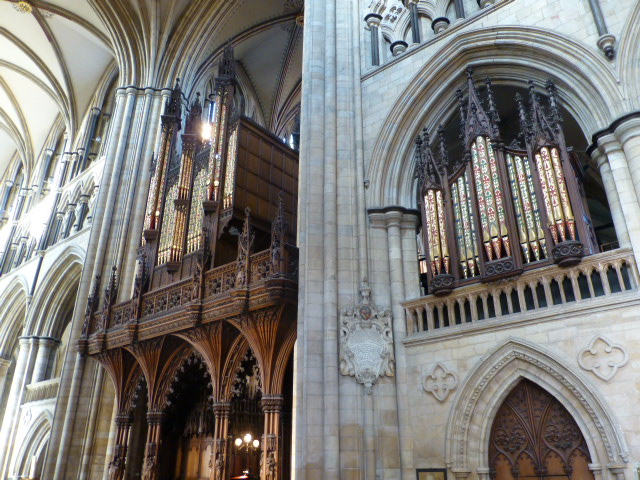 Side by side in Beverley Minster can be seen the Arthur Hill case on the screen and the 18th century Snetzler case as modified in 'Gothick' style by later builders which covers the Solo swell enclosure.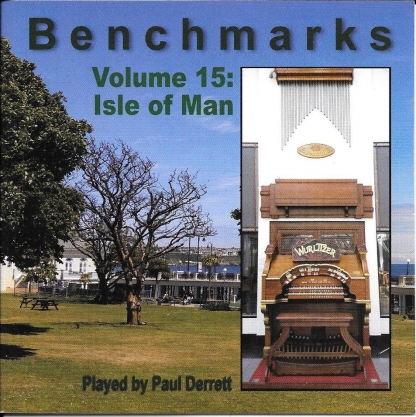 Benchmarks volume 15 - Isle of Man
Recorded in June 2016. Featuring no fewer than seven highly varied and interesting organs, this CD programme has a slight 'holiday feel', rather emphasised by the last four items which were recorded on the 1929 Wurlitzer originally built for The Odeon, Leicester and now installed (without tonal alteration) in the Villa Marina, Douglas. It's great fun!